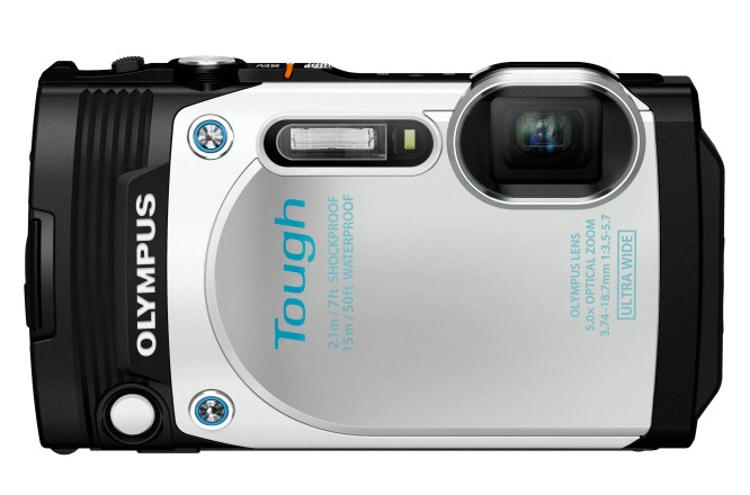 The Olympus Tough TG-870 – Whatever the conditions: great photos, ready to share, anytime, anywhere – Sure, even the average phone takes ok images a lot of the time, but what about those times and places where your precious phone can't handle the conditions?
When you are having fun in the pool or hanging tough in the surf. When you've made it to the top of that massive climb to enjoy spectacular panoramic views, or spotted some colourful fish while snorkelling by the reef. Or when your bag is full of sand and gets thrown in the boot of the car. Can your phone handle that?
These are the times the new Olympus TOUGH TG-870 comes into its own. Tough enough to go anywhere – waterproof to 15m, shockproof to 2.1m, crushproof to 100kg, dustproof and freezeproof to -10°C, making it the perfect, hassle-free electronic log-book for all your adventures.
TG-870 owners benefit from Olympus OI.Share and OI.Track, with the ability to control the camera remotely via WiFi from a smartphone and share geo-tagged images on social media – from virtually anywhere, without a computer.
It also boasts the widest wide-angle zoom lens currently available in the rugged and waterproof compact camera class4* (21-105mm*). Not only that – it's easier than ever to put yourself clearly in the picture too, thanks to a selfie-friendly design that features a tilting 3", 920,000-dot screen and front face button as an alternative shutter release, backed by a Selfie Mode that compensates for any edge-of-image distortion in wide-angle shots.
Sports photographers will love its Sport Burst and other Sport Cam modes, capturing every bit of the action, while the camera's enhanced range of Art Filters will appeal to the creative in you too.
Never miss a shot
Isn't it annoying when you are shooting outside in bright sunlight that makes the LCD screen hard to see? The TG-870 has thought of that, which is why it now features an LCD boost, with maximum brightness 2.6 times brighter than normal. The camera's outstanding 21-105mm* 5x optical zoom lens, combined with a 16-Megapixel backlit CMOS sensor, powerful TruePic VII processor and iHS technology, ensures excellent quality from corner to corner, even in fast-moving scenes and low light. The new AF lock also means you have complete freedom of focus, including for Underwater modes (Snapshot, Wide 1 and Macro).
Never miss a scene
The TG-870 doesn't just excel for stills – it's great for widescreen video clips too. Sport Cam Mode automatically sets the aspect to 16:9, and offers three video formats, including time-lapse movie. When you are at the heart of the action yourself, the camera can be securely attached to a sports harness using an optional holder, with the front face button to start your video recording. But when the action is much slower, you can still capture that special moment – for instance, Time Lapse Movie can also be used for night scenes, with a shutter speed of up to 4 sec. The new Live Composite mode allows you to capture light trails, checking them in Live View for easier shooting.
And love a selfie – even when a friend is taking it
Ever wanted a shot of you snorkelling? With the 3", 180° tiltable flip-out LCD, it's easy for your travelling companion to frame that over/underwater shot. For hand-held selfies, the reassignable front-face button can be used as an alternative shutter release, enabling you to shoot one-handed with either hand.
The TOUGH TG-870 will come to Europe in April – perfect timing for the outdoor and holiday season. It will be available in white, black and green. The camera will retail for £249.99, and comes with a free six-month warranty extension if you sign up online for MyOlympus membership.
Olympus Tough TG-870 Accessories
Sport Holder (CSCH-123) – Carry your camera hands-free by mounting it securely on a harness or backpack strap. Comes with a spiral cord, karabiner and quick release mechanism for maximum flexibility.
Underwater Case (PT-057) – Rigorously tested for shooting at greater depths, of up to 45 metres. The face button can be assigned to wide-angle or macro and operated wearing gloves, through the case.
Silicone Jacket (CSCH-124) – This dedicated jacket makes your camera easier to grip and even more durable in the harshest conditions. The LCD, face button and two tripod interfaces can be used in the case.
Soft Camera Case (CSCH-121) – A stylish, all-weather case that comes with a karabiner clip and is specially designed for quick drainage and ventilation so your camera dries faster. Available in black, blue or red.
Floating Handstrap (CHS-09) – This chic red strap is easy to spot if you drop it in water.
TOUGH Adventure Case – Neoprene case with belt loop, detachable arm belt, metal hook and safety cord.
TOUGH Adventure Pack – Contains the TOUGH Adventure Case, the CHS-09 and a bonus metal neckstrap and Ice Bag to carry cool drinks