Fix or interchangeable lens?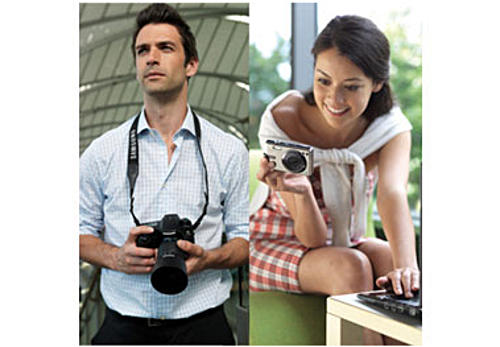 You no longer have to decide which is the best camera, whatever camera you select is "good." The advanced optical technology ensures that virtually all digital camera takes excellent pictures.

After the perfect picture
Think about what do you want to photograph (for example, family or sports), and for what uses (print or sharing photos on the internet), etc. Then put up some questions; what meets the best your style and how cretive you want to be? Are you willing to carry a bigger camera and several lenses with yourself, or strive for simplicity? Do you want to override the camera's shutter speed settings?
However, compact cameras could be attractive for the pros as well, who want to catch a "critical moment". A compact camera is aleays at hand and do not require complex technical settings, additional equipment, even world-class photographers have been using automatic machines that always come in handy if "Puritan and efficient" approach is intended to be used at work.
Fixed lens: versatile, easy to use, it fits in your pocket
If the goal is ease of use, the compact camera with a fixed lens is to chose. The automatic machines are ideal for beginners or amateurs who wish to prepare only occasional, such as partying pictures. Better compact cameras usually have sufficient zoom for close-ups, and similar features are offered like an interchangeable lens camera (eg. Manual override certain settings that affect the image quality). If you want to create high-quality images quickly, these cameras are made for you.
Fixed lens: wireless
For example, the Samsung SH100 has a huge, 14.2-megapixel sensor and Wi-Fi capability, also has a Wi-Fi hotspot so you can share your photos or send them by email. A push of a button you can upload your photos to Facebook, Picasa or YouTube, so almost immediately to share the most beautiful moments with your friends or your family.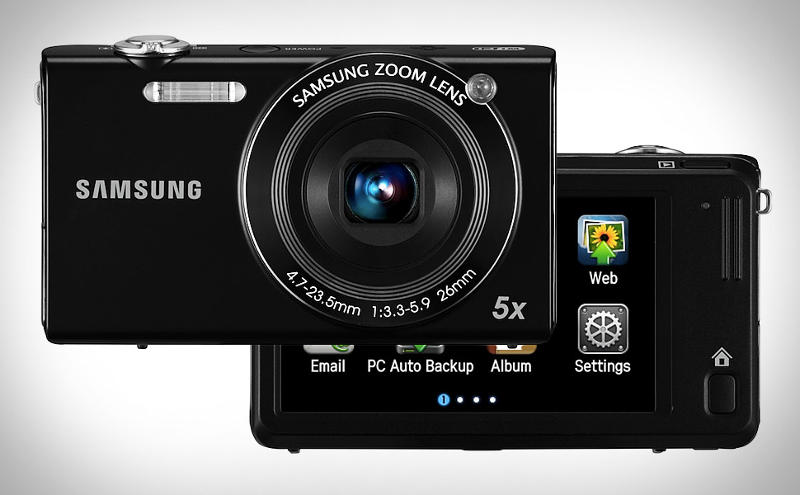 The SH100 remote search window allow you easy access to your smartphone, which allows remote preview and zoom, flash, to adjust the resolution and other features.
Fixed lens: long-zoom
A camera with a long optical zoom allow maximum accuracy and resolution approach to the subject. With shorter zoom further editing required to zoom the image so you lose time and precious pixels.
Interchangeable lens
The Samsung NX system is similar to the traditional DSLR cameras offering interchangeable lens, at the same time compact enough leaving the optical viewfinder and mirror house out of the camera body.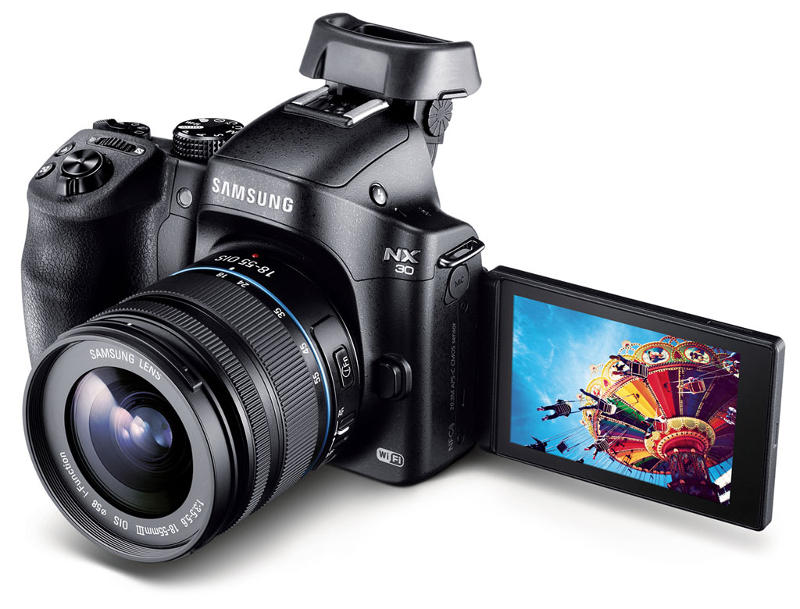 Wide aperture
Due to the wide aperture of the lens more light to enter, which is necessary for capturing realistic, distortion-free images. If you shoot in low light conditions, or the focus on the edges of the images is also important, choose a wide aperture (fStop) lens, such as the 30mm NX Pancake lens. Such lenses that contain an aspheric element, improve sharpness and minimize distortion.
Zoom lens
Are you photographing sports scenes outdoors and want to be close to the action? Using a versatile telephoto lens, such as the Samsung 50-200mm T50200IB you can stay in the background, like capturing a portrait, and then immediately re-zoom on the track to record the events. The lens contains ED glass elements, which minimizes the distortion otherwise typical to tele-zoom lenses.
In addition, selection of the shutter speed manually (Shutter Priority AE) and aperture (Aperture Priority AE) shooting mode, enable to unleash your creativity, because you can choose a recording mode and the focus range of motion. However, if ease of use is important, you can take a picture as a compact camera.
Memory and sharing
In selecting a camera you should also pay attention that it records on standard, for example. SD or MicroSD (which is like a smaller SD) memory card. Some cameras use their own memory card formats, which are more circumstantial and more expensive to buy. To clear the memory and to transfer the photos, there are several options; put the SD card from the camera to a computer or printer; cables to directly connect your camera to the computer; or, ideally, Wi-Fi, you can use, send your pictures to your computer directly or you can share them with your friends and family.
Source: Samsung.hu