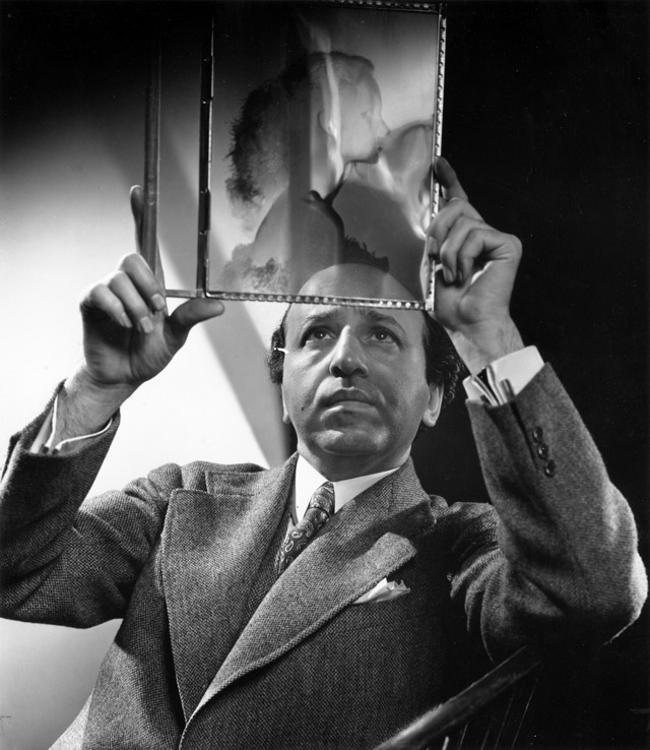 Yousuf Karsh (December 23, 1908 – July 13, 2002) is one of the masters of 20th century photography. His body of work includes portraits of statesmen, artists, musicians, authors, scientists, and men and women of accomplishment. His extraordinary and unique portfolio presents the viewer with an intimate and compassionate view of humanity.
According to the Metropolitan Museum of Art, he is "one of the greatest portrait photographers of the twentieth century, [who] achieved a distinct style in his theatrical lighting."
Yousuf Karsh was born in Mardin, a city in the eastern Ottoman Empire (present Turkey). At the age of 16, his parents sent Yousuf to live with his uncle George Nakash, a photographer in Sherbrooke, Quebec, Canada. Nakash saw great potential in his nephew and in 1928 arranged for Karsh to apprentice with portrait photographer John Garo in Boston.
Karsh was a master of studio lights. One of Karsh's distinctive practices was lighting the subject's hands separately. He photographed many of the great and celebrated personalities of his generation. Throughout most of his career he used the 8×10 bellows Calumet (1997.0319) camera, made circa 1940 in Chicago.[11] Journalist George Perry wrote in the British paper The Sunday Times that "when the famous start thinking of immortality, they call for Karsh of Ottawa."
Karsh had a gift for capturing the essence of his subject in the instant of his portrait. As Karsh wrote of his own work in Karsh Portfolio in 1967, "Within every man and woman a secret is hidden, and as a photographer it is my task to reveal it if I can. The revelation, if it comes at all, will come in a small fraction of a second with an unconscious gesture, a gleam of the eye, a brief lifting of the mask that all humans wear to conceal their innermost selves from the world. In that fleeting interval of opportunity the photographer must act or lose his prize."
Karsh published 15 books of his photographs, which include brief descriptions of the sessions, during which he would ask questions and talk with his subjects to relax them as he composed the portrait. Some famous subjects photographed by Karsh were Muhammad Ali, Joan Baez, Zulfiqar Ali Bhutto, Humphrey Bogart, Pablo Casals, Fidel Castro, Winston Churchill, Albert Einstein, Dwight Eisenhower, Princess Elizabeth, Clark Gable, Indira Gandhi, Ernest Hemingway, Audrey Hepburn, Pope John Paul II, Grace Kelly, Jacqueline Kennedy, John F. Kennedy, Pandit Nehru, Laurence Olivier, Pablo Picasso, Pope Pius XII, Prince Rainier of Monaco, Albert Schweitzer, George Bernard Shaw, and Andy Warhol.
In 2009, in Ottawa, Yousuf Karsh's life and work were celebrated during Festival Karsh,[14] a collaboration between the Canada Museum of Science and Technology and the Portrait Gallery of Canada. He was made a member of the Royal Canadian Academy of Arts.
Karsh has influenced many other photographers in different styles to become more independent and further motivate other artists.
Source: Wikipedia