Olympus Stylus SH-1 digital camera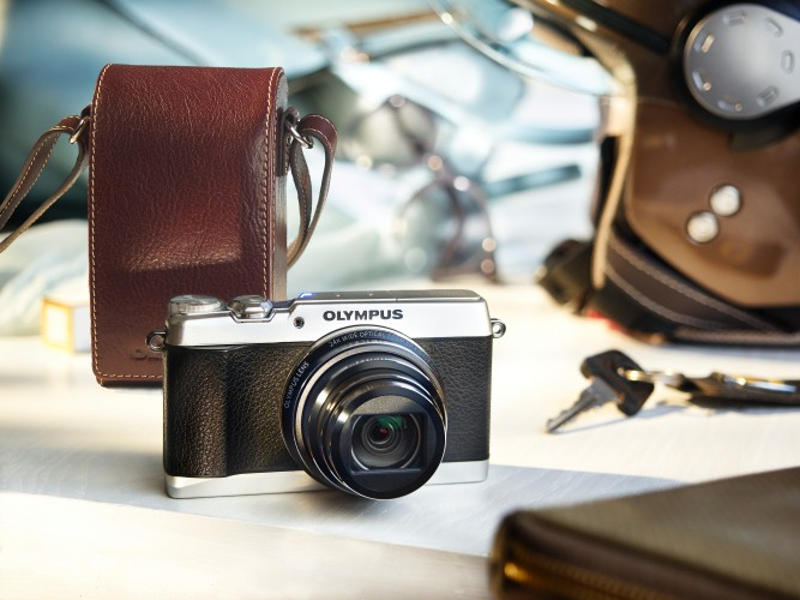 Olympus announce the OLYMPUS STYLUS SH-1 scheduled to go on sale from end of April 2014. This premium design camera features a sophisticated design, with a 24x, high-powered optical zoom lens, the world's first optical 5-axis image stabilization for both still images and movies, and a built-in Wi-Fi for even more enjoyable photography.
Sophisticated design inherited from the OLYMPUS PEN
This model inherits the design concept from the popular OLYMPUS PEN Compact System Camera, with a sophisticated feel that is appropriate to a camera with the Premium Design name. Aluminum alloy is used for the top part of the camera and the main controls, and a metallic finish is used to match the body color. A post-diamond cut process is formed around the lens barrel and base, a pliable, strong synthetic leather material is applied to the front of the camera, and aluminum cutting for mode dials show an attention to detail that extends to every facet of the camera. Just as with the OLYMPUS PEN, this model is designed with a sophistication that can satisfy a wide range of users, both men and women, regardless of their age. To improve camera grip for better control, grips are placed on the front and back of the camera. Because the grips are designed to be perfectly comfortable to fingers, the camera is easier to stabilize during telephoto shooting. This model is also equipped with strap attachments for both sides for a more tailored design with the bundled strap. The separately-sold PEN series straps can also be used so that you can customize the camera to match your particular style. The body is available in three different colors: silver for a classic camera feel, black for a sophisticated monotone look, and white for a somewhat transparent and cool look. You can also enjoy coordinating the camera with body jackets made exclusively for this camera to match your clothes and accessories.
Equipped with a high-performance 24x optical zoom lens (48x Super Resolution Zoom) that covers from a 25mm wide angle to 600mm telephoto
Despite being a compact camera with a high-powered zoom, the STYLUS SH-1 achieves excellent image quality in all regions from a 25mm wide angle to 600mm telephoto by using ED lenses which suppress chromatic aberration as used in interchangeable lenses, and other high-performance lenses such as DSA, HD, and EDA lenses. All five groups which make up the lens construction are driven, and all types of aberration are minimized while achieving a high-powered zoom and high resolution, as well as remaining compact by equipping the lens with a mechanism that enables more effective zooming and focusing. Additionally, the combination of the high-sensitivity/high-speed drive 16 megapixel Back-lit CMOS sensor (BSI CMOS sensor), and the TruePic VII image processor also included on the flagship model OM-D E-M1 make this technology possible, for high-sensitivity, low-noise, high-speed AF.
The world's first optical 5-axis type image stabilization compatible with both still images and movies
The 5-axis sensor-shift image stabilization which is popular on the OM-D E-M1 has been enhanced to support movies. Traditional compact cameras compensated for 2-axis angular blur only in the forward and backward tilt (pitch) and horizontal roll (yaw) directions. However, in addition to the two axes of pitch and yaw for still images, 3-axis image stabilization for rotational blur along the optical axis located around the center axis of the lens was included from the STYLUS SH-50/60. This allows for electronic compensation of translational blur when the camera moves vertically and horizontally when shooting movies, with a hybrid 5-axis image stabilization that combines both optical and electronic image stabilization. The STYLUS SH-1 uses the E-M1's optical*2 image stabilization mechanism as a base for an optical*2 5-axis image stabilization compatible with both still images and movies, the worlds' first on a digital camera and video camera. In addition to 2-axis angular blur and rotational blur along the optical axis located around the center axis of the lens, translational blur that tends to occur in macro photography when the camera moves vertically and horizontally is optically corrected, making a total of five types of high-precision correction for naturally-appearing shots even when shooting in dark locations without the flash and a tripod. In addition to the optical*2 5-axis IS, a new hybrid IS that electronically corrects in five axes provides more powerful image stabilization than ever before when shooting movies. The performance achieved from this rivals that of the latest video cameras. With this technology, you can record children while chasing them around, or capture video from shaking amusement park rides just as beautifully as you imagine them.
Built-in Wi-Fi for easy image sharing and wireless shooting with a smartphone
The STYLUS SH-1 is equipped with a built-in Wi-Fi which enables easy connection to a smartphone or tablet simply by pressing and holding the Wi-Fi button. Using the simple connection function in the dedicated OLYMPUS Image Share (OI.Share) app, troublesome initial settings can be easily completed simply by scanning the QR code that appears on the camera screen with a smartphone. Not only can OI.Share be used to easily connect to a stmartphone or tablet via Wi-Fi, but you can use it to easily import recorded images to a smartphone, use the remote control function, and operate the zoom while checking the subject, specify AF points, and activate the shutter the same as on the camera.
The enhanced Advanced Movie mode lets you shoot four types of movies
1) Full HD 60P movies
You can record Full High-Definition movies at 60 frames per second. Even movies of sports scenes with fast-moving subjects can be captured naturally and smoothly. Also, the powerful optical 5-axis and electronic 5-axis hybrid image stabilization helps to correct for slow, strong shaking that tends to occur when shooting while walking. When recording movies in iAUTO mode, the camera automatically recognizes the scene and records movies at the optimal image quality to match the scene, so you never have to worry about how your movies will look.
2) Time Lapse Movie
The Time Lapse Movie function is included on this model for fixed-point observation shooting of flowers opening, the comings and goings of people, and the movement of clouds. Simply set the shooting time from five minutes to five hours to create a short movie where the shooting time is compressed into 20 seconds.
3) Photo & Movie Capture
This feature lets you capture a full pixel (16 megapixel), high-quality image simultaneously while recording a Full HD movie. This function is perfect for simultaneous recording of scenes that you won't get a second chance to shoot, such as recital performances and competitions in children's sporting events.
4) Fast 240 fps High-Speed Movie
This function lets you record 240 fps (HVGA: 432 x 324), and 120 fps (HD: 1280 x 720) high-speed movies*8. Even subjects that move at split-second speeds can be captured vividly and then played back in slow motion.