Machine Vision Fujinon lens lineup supporting 3-megapixel 2/3" format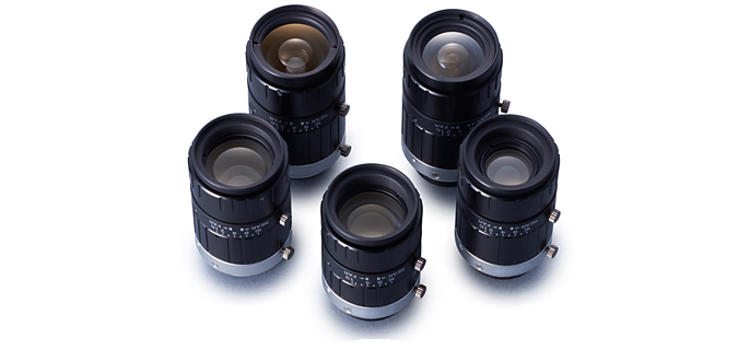 Fujinon HF-XA series maintain high resolution even with change of aperture and shooting distance and deliver edge-to-edge even sharpness under versatile shooting conditions.
Fujifilm Corporation (President: Shigehiro Nakajima) has announced that it will release five 'FUJINON HF-XA Series' high performance lenses as new addition in the lineup for Machine Vision system in early December. These new lenses support 3-megapixel 2/3" format and deliver edge-to-edge even sharpness and cover five different focal lengths.
In manufacturing field it is becoming general that Machine Vision system recognizes the image to perform tasks such as positioning, classification, measurement and inspections automatically. The demand for the Machine Vision system is anticipated to make further growth with responding to the request for automation and streamlining work in the production lines.
To respond to current market demanding for more product efficiency and stricter quality management, Machine Vision systems also need to realize higher image recognition accuracy and processing speed. Manufacturers are offering Machine Vision cameras with large sensors, high resolution and high frame rate. The optical lenses for these cameras are also requested to realize high resolution to provide the edge-to-edge even sharpness to secure the recognition accuracy of the systems.
The FUJINON HF-XA series are high-performance fixed focal length lenses with supporting 3-megapixels 2/3" sensor format. The new lenses maintain their sharpness even when wide open under low light conditions or during the change of shooting distance. When used under diverse shooting conditions at various types of production lines, the lenses maintain edge-to-edge sharpness from the image center to all corners for higher image recognition accuracy. Instead of the 30mm-square form factor common for Machine vision cameras, the new series come in a cylindrical shape measuring φ29.5mm, thereby catering to the development of compact Machine Vision systems. Three mounting holes each are provided for the iris and focus rings so that the lenses can be mounted to Machine Vision from more flexible angles.
Tapping into optical technologies and precision processing / assembling technologies nurtured over many years, Fujifilm offers a wide variety of lenses for the digital age of premium imaging, including broadcast lenses and surveillance camera lenses. Also in the machine vision field, the company will continue to deliver an extensive lineup of products developed in pursuit of advanced performance, best imaging and high quality in order to meet the needs of all customers.