Canon PowerShot SX540 HS and PowerShot SX420 IS compact bridge cameras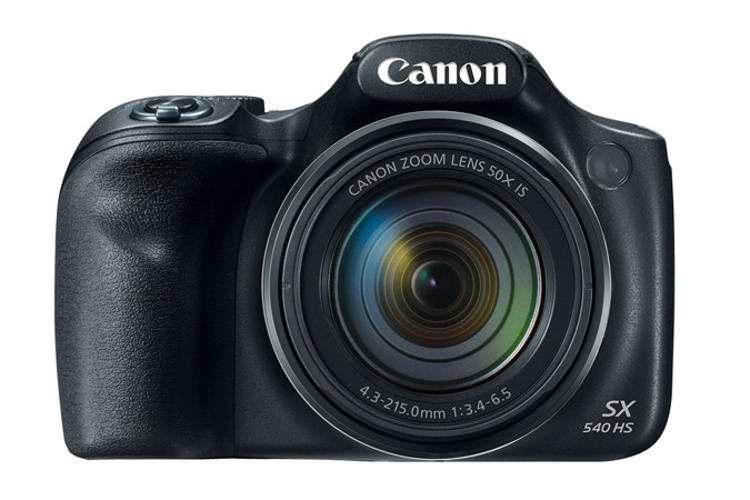 Canon adds two new superzoom compact bridge cameras to its PowerShot range – the Canon PowerShot SX540 HS and PowerShot SX420 IS.
The PowerShot SX540 HS boasts incredible low light capabilities and full creative control to make the best use of its powerful 50x optical zoom and ultra-wide angle lens. The PowerShot SX420 IS offers an impressive 42x zoom lens, 20 megapixel sensor alongside a DIGIC 4+ and a range of automatic and simple creative features as well as Wi-Fi with Dynamic NFC for easy sharing.
Superzoom power, outstanding quality – Canon PowerShot SX540 HS
The PowerShot SX540 HS features the power of a DIGIC 6 processor and a 20.3 megapixel CMOS sensor, ensuring all your memories are captured with incredible clarity. The high sensitivity sensor also gives you amazing low-light shots, and the 50x optical zoom allows you to get close to the action and capture intricate detail. With ZoomPlus you can also digitally double your zoom without losing resolution, so whether it's distant buildings or shots from the back of a stadium, nothing is out of reach.
To ensure you keep track of your subject when using long zoom, improved Zoom Framing Assist Lock engages a stabilisation mode, allowing you to choose and frame your subject easily whilst the camera intelligently keeps your it centred and in focus. For impressive cityscapes and sweeping vistas, the 24mm ultra wide-angle lens helps you fit more in to every shot, perfect for sharing your travelling memories with friends and family.
For budding movie makers the PowerShot SX540 HS shoots Full HD video in MP4, and uses 5-axis Dynamic IS to keep footage steady as you move and shoot. For movies you don't have to think about, Story Highlights intelligently analyses your images and clips of a chosen date or person, stitching them together to create a movie memento to watch and share.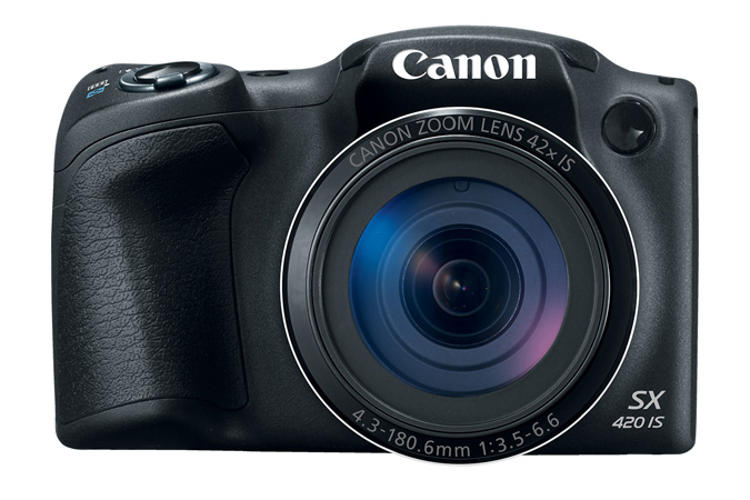 Pocketable power – Canon PowerShot SX420 IS
Featuring a 42x optical zoom, ZoomPlus and an ultra wide-angle lens packed into a compact body, the PowerShot SX420 IS is the ideal camera for easily capturing every occasion – whether it's everyday snaps or breath-taking travelling photos. Together the 20 megapixel sensor and DIGIC 4+ processor ensure image quality is not compromised, and thanks to Intelligent IS your images and HD movies are blur free, showing all the detail. With a host of Creative Filters, including Miniature Effect and Fish-eye Effect, you can capture unique creations in an instant. The 7.5cm (3.0") LCD screen makes reviewing your movies and photos easy, while the ergonomic grip keeps your hand and subject steady in any situation.
Create and share
The cameras both have built in Wi-Fi and with Dynamic NFC allowing you to easily connect and share photos and movies to compatible smartphones, tablets or storage devices such as the Canon CS100, or even control the camera with Remote Shooting. The dedicated Wi-Fi Button gives you a simple shortcut to connectivity features, helping you share as you shoot. For peace of mind, both cameras offer Image Sync, automatically backing up your photos and movies to cloud services like Canon's irista or Google Drive™ as soon as they are connected the internet.
Canon PowerShot SX540 HS key features:
Flexible shooting for every special moment
Everything you need for superb Full HD movies
Easily connect, share and back up your creations
As simple or advanced as you want
Designed for comfortable shooting and easy framing
Canon PowerShot SX420 IS key features
Big zoom to get you closer to every occasion
Superb HD movies at the touch of a button
Easily connect, share and shoot remotely
Stunning results for your proudest moments
Get creative with point and shoot ease