Bence Máté is the nature photographer of the year 2015 in Hungary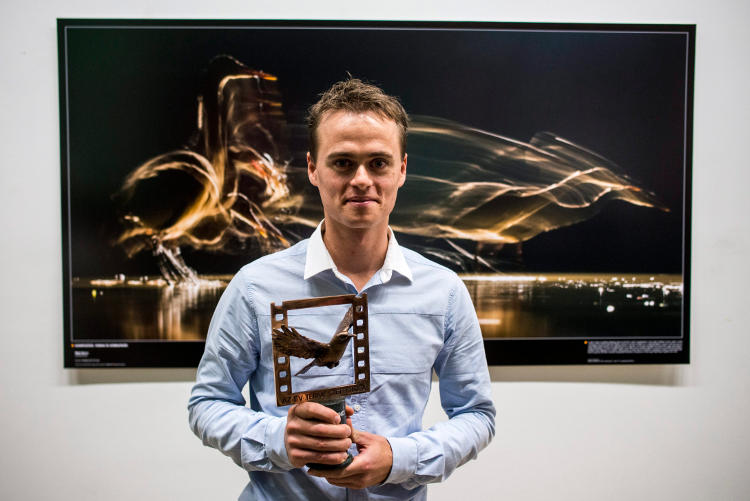 Bence Máté won for the fifth time the Nature Photographer of the Year title, who was pictured in front of his photo winning the nature's Photo of the Year title, as well. While this year Levente Szekeres of Subotica was choosen Young Nature Photographer of the Year by the jury.
The Canon – Nature Photogrpaher of the Year competition was organized 23rd time this year. The ever-popular contest this time received more than 3,400 photos from Hungary and abroad – told the President of naturArt, the Hungarian Nature Photographers Association at the press conference held prior to the awards ceremony in Budapest.
Peter Fáth recalled that in the spirit of full transparency, the second and third round of judging took place in front of the public this year.
The best photos can be seen at an exhibition, in the Hungarian Natural History Museum, and the photos will be published by Alexandra Publisher company. According to Peter Fáth the greatest achievement is that the 102 photos on the wall are the creation of more than 60 photographers.
Milan Radisics, former president of naturArt, announced the winners as follows:
Earth is in our hands category winner Zoltan Ritzel
The behavior of birds category winner Mánfai Bence
The behavior of the mammals category winner Bence Máté
Animal behavior category winner Tibor Jankab
Animals and their environment category winner István Palcsek
Animals face to face category winner Bence Máté
Plants and fungi category winner Levente Marquis
Composition, form and experimentation category winner Orsolya Haarberg
Landscapes category winner Zoltan Laki
Life below surface category winner László Előd
Sunset to Sunrise category winner József Gergely
Black & White nature photography category winner Nándor Lang
Energies of nature category winner Orsolya Haarberg
Youth category winner Levente Szekeres
Underwater Photographer of the year special prize winner Csaba Tökölyi