A picture is worth a thousand words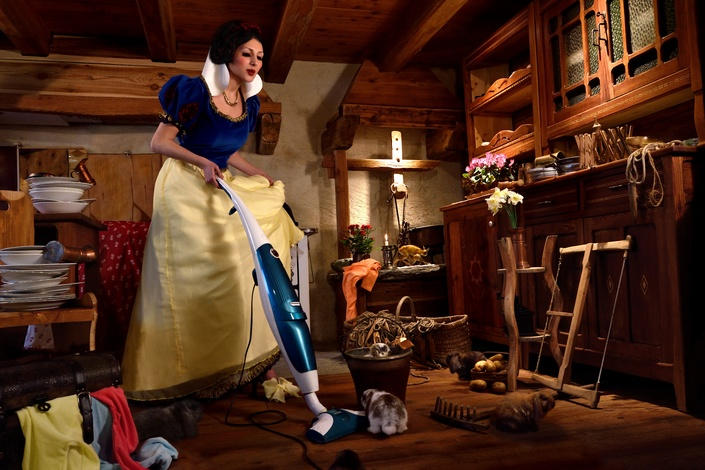 Enlisting three distinctively daring photographers, Nikon has tested the old adage that 'a picture is worth a thousand words'. The photo project gives modern reboots to three classic fairytales and tells each one in just four frames, using the Nikon D5500.
In the #PicWorth1000Words series, award-winning photographers from the UK, Spain and Italy take a fresh approach to the stories of The Little Mermaid, Little Red Riding Hood and Snow White.
Cristina de Middel was the first to take up the challenge. Her taste for blending fact and fiction has previously seen her use SPAM emails to visually represent their imaginary senders. In her modern-day retelling of the Hans Christian Andersen tale, The Little Mermaid, she relocates the story to Mexico. During her time living in Mexico, she has observed the local tradition surrounding debutantes, which has an interesting parallel to Andersen's mermaid.
She comments: "I wanted to show you can create ambitious photography without a big budget, when you have a simple yet powerful theme. I saw first-hand the fascinating rites of passage in Mexico, and it reminded me instantly of the classic coming-of-age love story in The Little Mermaid."
Taking a different approach is Italian photographer Dan Bannino. He gained international recognition with his depictions of celebrity diets in the style of Old Masters paintings. He takes similar inspiration from the style of fifteenth century painters in his reimagining of the 1812 Brothers Grimm version of Snow White.
He explains: "The simple innocence of the Snow White story has ensured its enduring significance, just as classic works of arts become ever more important with each new generation that enjoys them. With this series I hope to encourage aspiring creative talents to reimagine art and interpret it in their own way. Never before has this been easier, thanks to digital photography."
Meanwhile Sandro Giordano brings a bold new edge to Little Red Riding Hood, who in his retelling, struggles with the pressures of modern-day scrutiny. He comments: "Great photography gets people talking and thinking. Approaching a well-known story in a new way, using striking images, helps us realise how powerful our imagination can be."
The four-frame fairytale series' are being showcased on www.nikonlife.eu/events/1000-words. Each photo series gives a fairytale a new angle, just as the Nikon D5500 camera used offers a vari-angle touchscreen to open up further creative possibilities.
More people than ever before are aware of the enjoyment photography brings, thanks to recent technological innovation. We are now inspiring those who want to go further in telling their stories visually. This 'fantastical' project with step-by-step help from the best in the business on how to make the most of cameras like the powerful Nikon D5500, will surely do that.

Jordi Brinkman, European Product Manager Nikon
You can find full details of the photographers, their respective projects and their tips at http://www.nikonlife.eu/events/1000-words. You can also join the conversation via Twitter on #PicWorth1000Words or via Nikon's Facebook page at www.facebook.com/nikon.