Canon announces winners of 'Iconic Images' competition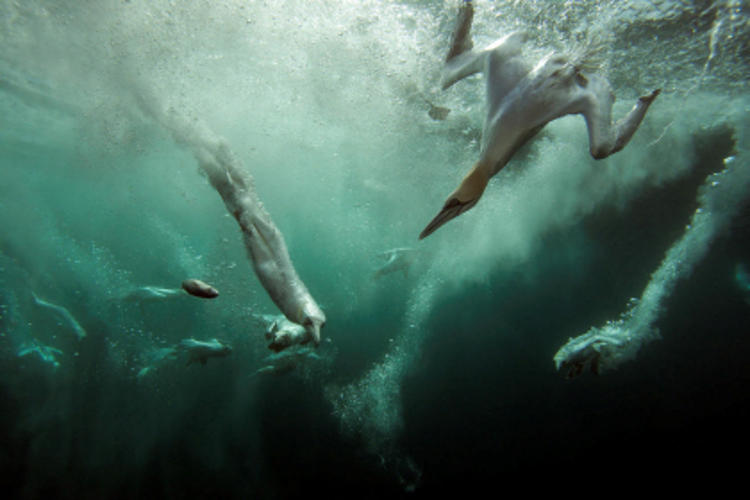 Canon reveals the 10 finalists and overall winner of its pan-European 'Iconic Images' competition. Emanating from over 12,500 entrants across 18 European countries, Matt Doggett from the UK was crowned winner by a panel of internationally acclaimed photographers, including Canon Ambassador Brent Stirton and Getty Images photographer Toby Smith, for his entry "Visionary Changes."
Matt's striking underwater shot of gannets fishing for food was selected for his technique, creativity and original and interesting interpretation of the brief, a story of change. "When gannets hit the water the shape of their eyes change instantly giving them perfect vision of the fish upon which they prey," he said.
This underwater image represents a chaotic situation and it's difficult to find a frame in these circumstances, focusing is another issue. This image handles those problems well and the image makes for a dynamic picture as a result.

Judge Brent Stirton
Matt will win his choice of one of three Canon products¹, and along with the other nine finalists also a Canon EOS 5D Mark III camera, an EF 24-105mm f/4L IS USM lens and a printed copy of his winning entry on Canon's new imagePROGRAF PRO-1000 premium photo printer.
Editing down to the 10 finalists from over 12,500 submissions was undoubtedly a daunting task. However the variety of content from landscape, nature, still life and portraiture to reportage made it a pleasure. From the outset, it was clear that the overall calibre of photography was of a very high standard and we were impressed by the creative approach of a number of the photographers particularly when matched with great technical ability. Our congratulations go to the 10 competition winners whose passion and vision shone the brightest.

Getty Images' Senior Creative Director, Anthony Holland Parkin
The other competition finalists are:
Finalist: "Transition"
Name: Stephane Droal, Country: France
Description: Uniform colours represent the transition between summer and winter. The autumn colours brighten our eyes.
Judges comment: "Lovely soft, subdued light, a hint of mist and a narrow colour palette makes this intriguing scene stand out from the other landscape shots. It is also well timed to reflect the current seasonal change across Europe. The post-production adds to the image but is not overpowering or distracting from a simple scene. Technically the image is very well composed and exposed," Toby Smith.
Finalist: "Ready for changes"
Name: Oskar Zak, Country: Poland
Description: Original session has been made by a parent after 7 days since birth. We know the exact hour and date of changes… and the weight of it too.
Judges comment: "Quite a departure from the other images in the winning selection, but I loved the composition, the planning and message. Nicely done," Anthony Holland Parkin.
Finalist: "Ivory Burning"
Name: Tobias Corts, Country: Germany
Description: Kenya is burning its stockpile of Ivory. Stop poaching and killing elephants, they face extinction within the next 10 years.
Judges comment: "This reportage image highlights a subject at crisis point. The rough framing and tone further increase the urgency," Anthony Holland Parkin
Finalist: Provovaction au changement
Name: Emmanuel Brossier, Country: France
Description: Sometimes, change can be brought about. There is no change without the necessity of evolution. Photography can capture these historical moments.
Judges comment: "A strong composition reflecting the struggle and perhaps dejection of a citizen against a possibly authoritarian force," Toby Smith.
Finalist: The Great Encounter
Name: Tobias Friedrich, Country: Germany
Description: About 80 humpback whales live off the coast of Oman and Yemen and don't migrate like others. Scientists say that they are an own species.
Judges comment: "The shape of the whale echoes and flows with the landscape above. An effective image," Toby Smith
Finalist: Schroffe Kanten ganz weich
Name: Christian Kraus, Country: Germany
Description: This image shows beautifully how the harshest and most barren objects but can be beautiful in the right light.
Judges comment: "This is a classic landscape, well executed and timeless. The time of day is well chosen and the retouching is not over the top," Brent Stirton.
Finalist: Lake Agnes
Name: Erik De Boer, Country: Netherlands
Description: When changing from winter to spring, snow begins to melt and eventually will transform into more radiant blue water.
Judges comment: "A beautiful panorama. I love landscape pictures that command my attention and make me wish I was stood there," Toby Smith.
Finalist: Pushed aside
Name: Rupert Hitchcox, Country: UK
Description: A protestor at the G8 protests in London, gets pushed aside by the riot shield of an anti-riot police officer.
Judges comment: "Great use of depth of field, focal point and composition make this image particularly powerful. Great observation," Anthony Holland Parkin.
Finalist: Deafening silence
Name: Aleksandr Dymov, Country: Russia
Description: Modesty is a girl's real beauty.
Judges comment: "Quite a contrast to the others that made the final selection. A beautiful, candid and intriguing portrait," Anthony Holland Parkin.
To see all 10 winning images from the competition, please visit the 'Iconic Images' competition page within the Gallery section of Canon's 'Come and See' website.